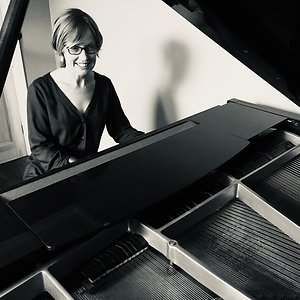 Playing the piano
Learning to play the piano is an immensely rewarding experience.

I teach all levels from absolute beginner to concert performance.

If you are an adult learning for the first time, or a pianist looking to develop your playing...

contact me here to book your first consultation lesson.

Read on for further details...



Working Online
I offer weekly sessions using 'Zoom'. This is a fantastic way of enjoying individual piano lessons whilst staying at home. You can record the lesson on your computer and return to it as a helpful practice tool.

Lessons are online or from my studio in South East London.


"This is much better than looking at emails on the computer". Online student, beginner level.


Some comments about my teaching.
"Kate is a thoughtful and adventurous musician and has wide ranging experience as a performing pianist and teacher." Max Richter, Composer/Pianist.


"I have known Kate and worked with her for many years. She is a gifted and imaginative teacher who has a rare insight into how to draw the best out of anyone wishing to start playing the piano from scratch or to take their playing to the next level." Michael Haslam, Director of Music at St James's Church, Piccadilly.

"It is exciting having family lessons on zoom as we can all share our enjoyment of learning the piano. It is such an opportunity for our grandchildren to see and hear their pianistically accomplished grandfather having his tuition as well as the fun and laughter when I have a go at their early learning level. Under Kate's encouraging tuition I see amazing progress all round. Do consider zoom lessons-it's amazing how readily at all ages we can cope brilliantly with this medium, even the smallest loves a go and has got the idea of playing then turning his head to Kate on the screen- he's 6 months and it's remarkable to see - yes it's true! We all benefit from getting together over the piano!" Grandparent involved in piano lessons.


Go to Lessons