email to book your first consultation lesson.
email to book a Music Therapy consultation.
email to discuss compositions.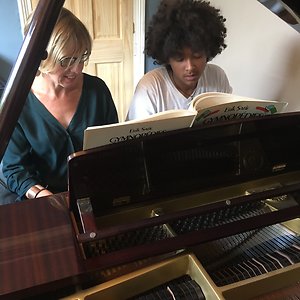 What people say about my teaching.
"My piano lesson with Kate is one of the highlights of my week. She teaches with patience, humour and expertise. I look forward to every lesson"

"This is much better than looking at emails on the computer".

"This is really great!"
Mother in Paris, sharing the hour Zoom lesson with her 4 year old.

"Kate has been teaching my daughter, Rhoda, for eight years. She now shows an intense love of the piano, playing a varied repertoire of classical, jazz and ragtime pieces and is confident and able in terms of improvisation and composition. I put a lot of this down to the teaching she has received from Kate. I recommend her without hesitation." Dora Schweitzer, Theatre Designer.

"Kate is a highly skilled, patient and intuitive teacher. She refreshed my keyboard skills. Presenting as a very rusty, middle aged Grade 7 pianist tied to the dots, Kate stretched me to the point where I could play complex pieces from memory - an aspiration I had long held. Thank you for making good memories for us, Kate." Sally Manser, Director of Creating Success EAZ.

"Kate is a wonderful piano teacher. She is patient, resourceful and encouraging. Having lessons with her is lots of fun. Highly recommended!" Adult student.

"Kate is a brilliant teacher and a really lovely person in general. If you're interested in doing piano or music theory grades, she will help you progress at a good pace, but she is also adaptable to what you want. For instance, I decided a while ago that I hated grades; since then we have been taking a less structured approach, exploring a range of musicians and genres. I would strongly recommend her to anyone looking for a friendly and talented teacher." Young adult student.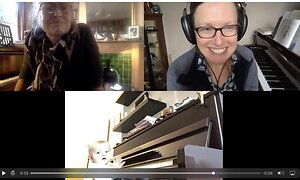 And something to watch.
This is from my YouTube Channel...'The Gift'



I was commissioned to write the sound for this... 'The Lights Have Gone Out In Eldorado', a short film by Steve Stevenson.

And, a short 'movie' I made...



Watch this Riccardo Muti speech. https://www.youtube.com/watch?v=35cABHl31OU

Have a look at this. https://youtu.be/R0JKCYZ8hng
How playing an instrument benefits your brain - Anita Collins

This one is useful to watch. It is about how learning an instrument is a workout for your brain and helps your cognitive functions.



This is fun. https://youtu.be/vcBn04IyELc
Line Riders - Beethoven's 5th

Watch this, the 'Journey of Sound to the Brain'.






And a little extra...
"One must learn to love.— This is what happens to us in music: first one has to learn to hear a figure and melody at all, to detect and distinguish it, to isolate it and delimit it as a separate life; then it requires some exertion and good will to tolerate it in spite of its strangeness, to be patient with its appearance and expression, and kindhearted about its oddity:—finally there comes a moment when we are used to it, when we wait for it, when we sense that we should miss it if it were missing: and now it continues to compel and enchant us relentlessly until we have become its humble and enraptured lovers who desire nothing better from the world than it and only it.—
But that is what happens to us not only in music: that is how we have learned to love all things that we now love. In the end we are always rewarded for our good will, our patience, fairmindedness, and gentleness with what is strange; gradually, it sheds its veil and turns out to be a new and indescribable beauty:—that is its thanks for our hospitality. Even those who love themselves will have learned it in this way: for there is no other way. Love, too, has to be learned."
Nietzsche